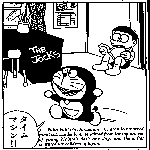 Time Machine
6
song CDEP. The Jocks are doing it for the kids because they are the kids. Scrappy, frenetic punk with songs about teenage angst and gatorade. What were YOU doing when you were 15? I thought so.
Listen: Give Me Your Germs
Videos:Some great reward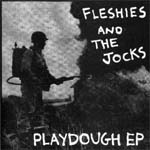 Split with The Fleshies
3
songs from the jocks, two from the fleshies. The jocks have progressed magnificently here, giving us a taste of what their upcoming full length will be like
Videos:Some great reward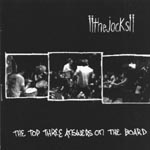 The Top Three Answers on the Board
T
his is incredible! No-one who has heard the top-secret copy of this CD has not been really impressed. It's still the jocks, but it's a totally different band. They blend together aspects of great bands like AFI and the Replacements with morgan's trademark snotty vocals. From straight-ahead punk to the final indy rock epic, this CD finally shows what The Jocks are really capable of. Recorded by Andy Ernst, whose credits include Green Day, AFI, Half Empty and everything else.
Listen: 12 Hands
Videos:Some great reward