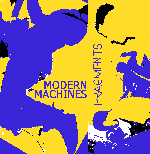 Split with The Fragments
B
oth bands come from Wisconsin, and play the kind of melodic punky rock that evokes cold winters and kids packed into smokey basements with a few cases of cheap beer. Their excellent songwriting combined with a refreshing earnestness really makes these bands stand out. To me there is a lot of continuity between the modern machines, the fragments and their geographical antecendents, Husker Du and the Replacements. Check out the mp3's and decide for yourself. 6 songs from each band, with alternating tracks.
Listen: The Fragments - my subscription.. | Modern Machines - Well Enough Alone
Videos:Some great reward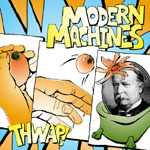 Thwap
T
he modern machines return with their very own full length. These guys play catchy punk rock to perfection, following a clear influence from the early replacements and husker du. Full of energy, rock power and diy attitude. They tour constantly, so keep an eye out for them in your town.
Listen: Look Me In the Eye
Videos:Some great reward